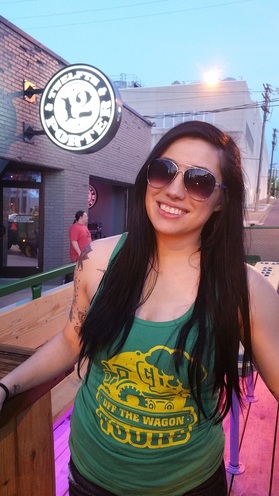 Can I receive a refund if I cancel?
All sales are final at the time of check out. We do not issue refunds unless the tours are cancelled due to a company policy. The reason we don't issue refunds is because these spots fill up usually way in advance and we do not have the ability for last minute cancellations.
Should I tip the driver/server?
Our staff work for gratuity, it's how we are able to provide for our families. They do everything possible to ensure you have an amazing experience! The average gratuity is $10 a person, but hey, if you're feeling generous we love that too! We can add gratuity to your card if you would like, just let your bartender or driver know. They also have Venmo.

Can we sign waivers before the tour?
We require waivers to be signed before the tour begins. You can do this by clicking the link in your confirmation email or by clicking "waiver" at the top of the page. If the waivers are not signed before the tour start time we will have to wait until they are signed before starting and this will cut into your tour time. Please either sign the waivers online or arrive 20 minutes early. We do not accept paper copies.

How is a company party gratuity paid? I don't want my customers/employees to have to pay.
Gratuity will be charged at $150 for those events to the card on file. We do this as a convenience to your employees/customers so that they do not come out of pocket for a business adventure. If you haven't already advised us of a business out we will charge the card upon arrival. Please let us know if it is a corporate event.
Do we check ID's?
Absolutely, twice actually. We require a government issues ID. That can be a driver's license or passport. We DO NOT accept college ID's or any other form not government issued.
How long is the tour?
The tours run about an hour and 45 mins. This includes the checking in and our safety briefing. Its important that you arrive 20 minutes early to get checked in so we can start at our scheduled time. If you show up late you could be left or your tour will be cut short.
What do we need to bring?
Just your alcohol and mixers! We provide the coolers, ice and cups. NO GLASS BOTTLES!!! If you bring class it
WILL NOT
be allowed on the wagons.
What does no glass mean?
No glass means that we
DO NOT ALLOW
any glass beer bottles at all. NO EXCEPTIONS. GLASS WILL BE REFUSED. Please put in a plastic container. Souvenir bottles will be available for sale starting July 2nd 2018.
Can we drink from cans?
We try to keep Nashville as family friendly as possible so we require all alcohol be poured into cups (provided). You can drink from a can as long as you bring a koozie. We also sell koozies for $5 at our office.
Can we decorate?
Only on our private tours. It has to be classy as we have a lot of young children walking the streets. Keep in mind that this would also cut into your tour time.
What if I'm running late?
If you are running late please let us know by calling
6159810106
. We won't be able to hold up our other guest for more than 5 minute, so please let us know as soon as possible. If you booked a private tour then we can wait! Unfortunately, the private tours will have to be cut a little short in order for us to still stay on schedule for our next customers.
Do we provide provide water or sunscreen?
Is it hot outside? Please bring any beverages you would like such as water. Tennessee sun can be brutal and sunscreen would be a great thing to bring if you have sensitive skin.
Will the tour leave without me?
Yes,
the tour will leave on its scheduled time. If you show up late and the waivers aren't signed they will leave. We have a very strict time schedule that we have to maintain. We can only wait 5 minutes past the scheduled start time. We highly recommend you try to get here early and have the waivers signed online before arrival. Nashville traffic can be very troubling at times so please plan accordingly.
Can we stop for more alcohol?
Please bring enough alcohol for your entire tour. We don't have the opportunity to stop for more alcohol because it cuts into your tour time so please come prepared.
Do we provide sunscreen?
Unfortunately we don't but we recommend bringing sunscreen as the beautiful Tennessee weather can be rather tough on your skin.
Are there restrooms?
We have restrooms at our new location. We also allow for stops during the tours.
​
​
​
Do you sell alcohol?
​
No, it is against the law for us to sell alcohol while driving down the road. However, you can bring your own alcoholic beverages. We will keep them cool for you and our bartender will be happy to keep your glass full. The only thing we ask is NO GLASS containers. Everything will be poured into red cups which we provide and of course we have ice.
What is not allowed on the wagons?
We do not allow glass, open alcohol not in a cup or koozie, silly string, throwing anything off the wagon, blow up dolls or body parts (that's happened), vulgar language or rude and disrespectful behavior. We try to provide a safe, fun, family environment in Nashville and try to keep our beautiful city clean.
Do I have to purchase tickets in advance?
Yes, advance purchase of tickets is required. We suggest booking well in advance to secure your preferred day and time. Tickets can be purchased online or over the phone with Visa, Discover or MasterCard. We do not except American Express.
What happens if it rains?
We say, the wetter the better! This wagon does have a cover. If it is heavy rain, we will cancel it unless you request to go in the rain! "RAIN" Cancellations are only refunded when we cancel due to extreme weather.
What about severe weather?
We love Tennessee weather but sometimes it does't cooperate with us. We have heaters now so if it is below 20 degrees we will cancel. If we have to cancel your tour due to weather, you'll be able to reschedule, or receive a full refund. Refunds are not given for no-shows. Please dress appropriately for predicted weather conditions. Weather cancellations are not made until right before the tour's scheduled start time, as we say here in Nashville "If ya'll don't like the weather, stick around 15 minutes and it'll change". We will cancel during severe thunderstorms and will issue a refund when we cancel for that situation.
What is Off The Wagon?
We have all at some point been a little "Off The Wagon" but, let's imagine a big tractor pulling a custom built wagon through downtown. That's right! A tractor downtown! How much more country can you get, right? Experience Nashville country-style!
Is there an age limit?
Yes, all riders must be at least 21 years old. In addition, everyone must bring a valid, government-issued ID to check in. Anyone who books a guest who is under 21 will not receive a refund and not be allowed to participate.
Can we bring food and drinks?
Absolutely, we love to eat and drink! Just NO GLASS containers. We will give you plenty of cups to put your beer, wine, or liquor in. Please note that NO alcohol will be consumed if anyone underage is on board (special groups only NO UNDER 21). We are not able to accept alcohol or food prior to the tour.
What type of tractor do we use?
When you think country, what pops in your head? A big green tractor! John Deere of course! Come take a ride on our big green tractor.
Do I have to sign a liability waiver?
Yes!
EVERYONE
participanting must provide a valid photo ID at the time of the tour and the waiver must be signed before arrival in order to expedite the check in process. You can find it at
www.smartwaiver.com/w/570fc29e44fd7
. All of our waivers are electronic, we do not provide nor except paper copies.
Is there music?
Of course, we are in Music City! We love to rock out while cruising the streets. We have our custom sound system with our awesome Off The Wagon mixes and you can always make your own playlist on spotify and we can look it up. We do not allow for phones or devices to be connected to our radio system but don't worry! We have almost EVERYTHING you can think of, minus Garth Brooks, He pays a lot of money for us not to play his songs, but we do have Taylor Swift finally. We also do not allow any vulgar music to be played. So keep it your requests classy!
Who is going to drive?
Us country folk of course! We have experienced drivers, and a knowledgeable bartender will pour your drinks! No, you can't drive, I've already asked. Not only does your bartender make amazing drinks, they love to take pictures, so smile and say CHHHEEEEEZ!
What should we wear?
Wear something comfortable. Remember, you are on a wagon and we recommend closed toes shoes. Please don't wear high heels, they are dangerous as we are moving and its hard enough to keep your balance on them on pavement.
Can I buy a gift certificate?
We currently do not have gift certificates available. Please check back soon, as we may be offering them in the future.
Can I book a private tour?
Yes, private tours are available, and can be booked online or over the phone with the same process as booking a single-seat ticket. Just click the calendar, choose your day, and make sure you are booking for the Private Party Tour, not the single-seat tour!
Can we bring more than 20 people?
If you have a group of 20 or more, please click "Contact OffTheWagon" to the left of the page to contact us directly. Click here to email
offthewagon@nashvillepartywagon.com
or call
6159810106
!
Can we extend our tour?
The only tours we can extend is the 9:00pm and 9:05pm (restrictions apply). Those tours are extended at the cost of $300 per hour.
Is there a fee for getting sick?
Yes, unfortunately there is. We charge $150 for someone getting sick on the wagon. This will be charged to the card on file.
What will get us kicked off?
We are very easy to get along with and love to party but there as some things that are a "no-no's". They include throwing things off the wagon, giving alcohol to people on the street, taking off clothes, becoming a safety concern or not following staff instructions.
Can we pick up more people?
No, unfortunately we can't allow this because they become a safety issue to our customers and our insurance.
Will we always make it through the whole route?
We try to run our full route every tour but Nashville is a huge convention city and we have a lot of events that temporarily shut down some streets. We will always find an alternate route to make sure you have a great time.
Is there any additional fees at all?
The only way to be charged any additional fees is by throwing up or by going in the prohibited restaurants and them charging us. The clean-up fee is $150 unless the restaurants fees are raised. The fees will be charged to the purchasing parties credit card.
Last updated 6/22/18